Mini Portable Air Cooler Fan Air Conditioner
Enjoy the coolness and no longer have to worry about the electricity bills!
A combination of air conditioner cooler, desk fan and air humidifier. It is equipped with 3 speeds, so you can choose an ideal speed to cool you down. The wind direction can be adjusted. With the latest evaporative atomization cooling technology, you can keep yourself away from dry air and enjoy the mist.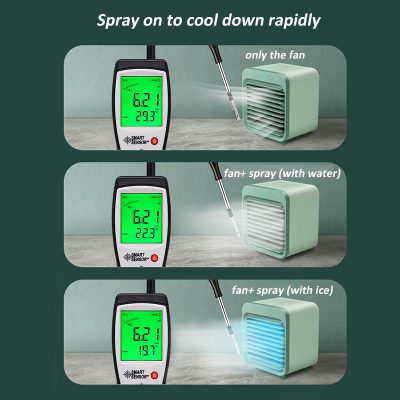 You can add water or small ice cubes in the water tank. A full tank of water can continuously keep spraying for 3-8 hours (depending on the speed of fan ). The waterless indicator will flash when the tank is dry.
Feature:
1. Powerful Cooling: Using evaporation technology, the dry and hot air is effectively converted into the cold and humid air, and the air is fresh. Keep it cool and moisturized, it is much cooler than desktop fans and more energy-efficient than air conditioners.
2. 3 Gear Wind Speed: You can add ice or ice water to the water tank to cool down. 3 speeds are available for you to choose from. The fan speed can be adjusted between low, medium, and high to meet your needs.
3. 200ML Water Tank: Built-in 200ML water tank, use time up to 8 hours. The heavy mist sprays from this air cooler can moisten the dry air at any time, deeply moisten your skin and keep you away from dryness.
4. Large Capacity Dual Battery: The air cooler has a built-in 2400 mAh dual battery, which can provide long-lasting battery life, and can be used for 12 hours at a time.
5. Wide Range of Cool: The louvers of the air cooler swing up and down, and the air is supplied at a wide-angle to cool the entire house.
6. USB Charging: You can use a USB charging cable to connect mobile power, plugs, laptops, and other devices with USB interfaces to charge.
7. Low Noise Operation: Using a brushless motor, the power is more powerful, low power consumption, and low noise when working.
8. Compact Size: Portable and lightweight design, very convenient to carry, very suitable for home, office, travel, and so on, let you enjoy cool and clean air anytime, anywhere!
Specification:
Power: 4W
Size: 122mm x 108mm x 142mm
Package included:
1 x Air Cooler
1 x USB Cable
1 x User Manual
---
We Also Recommend
---